Ride For Duart Castle
by Cynthia MacLean
Close this window/tab to return to the Ride For Duart page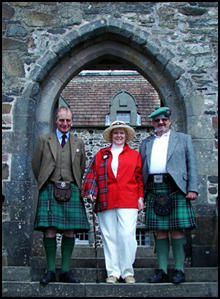 The whir of a wheel sounds with determination as Ian MacLean practices for an event near and dear to his heart.
You see, Ian is a descendant of the famous Maclean clan from Scotland, a group that spans the world and has a major symbol in common:
The majestic Duart castle.
This ancient structure has been the seat of the Maclean Clan since the 14th century. Sadly, through events of the times, the castle was abandoned and became derelict for almost one hundred years.
That all changed when Sir Fitzroy Maclean, 26th Chief, in 1910, purchased the castle back with the intent of restoring it to its former grandeur. He held the first modern gathering of Clan Maclean in 1912.
At the centenary gathering in 2012 Sir Lachlan, the current Chief, asked the clan if they would be willing to help with the much needed repairs to the castle. The Clan Congress unanimously supported his request.
Sir Lachlan and his family believe strongly they hold the castle for the clan; but they need our help.
This restoration is a massive project, and luckily, he's not alone. One of his strongest supporters is an especially enthusiastic man - Ian MacLean.
Ian has been the president of Clan Maclean International on two occasions, is an active trustee on the Scotland based Clan Maclean Heritage Trust, and he serves as the secretary for the Duart Restoration Board. He was also a former president of Clan Maclean Atlantic Canada.
From June 13 - 19, 2019, Ian will make a 400 km cycle along secondary highways from Tidnish, Nova Scotia to Washabuck, Cape Breton to raise awareness for the Clan's castle. He will stop along the Sunrise Trail, Route 6, at various locations to visit Maclean & Scottish related monuments and communities.
This trip isn't just about raising awareness.
When asked why this fundraiser means so much to him, Ian shared that his father had instilled in him the importance of having a clan castle - it is but one of two castles still owned by a clan chief that remain. It was enough to inspire him to make the trip to Scotland himself.
Ian remembers the pride he felt as he walked on the very stones his Maclean ancestors once stepped generations ago. That feeling contributed to his steadfastness in ensuring that his sons, his grandchildren, along with any persons with a keen interest in history and castles, always have the opportunity to visit this historic place.
However, Duart Castle still needs extensive renovations.
Ian intends to raise enough money to make a difference and he is excited at the enthusiasm shown thus far for his efforts. Worth mentioning, all donations will count towards the Guardian, or higher, status of the Duart Fundraising project. Sir Lachlan, himself, will send a letter in thanks.
When asked what Sir Lachlan thinks of his upcoming expedition? Ian laughs good-heartedly and says, "Well, I think he thinks I'm nuts. But to quote my doctor, after he put me through the paces to see if I was physically able to make this trip - You're in great shape for an overweight 73-year-old. Go for it!" That's all Ian needed to launch himself into his project.
Ian is ecstatic about the positive responses he has received from people all around the world. He can hardly wait to start his journey along the beautiful shores of Nova Scotia.
For every kilometer Ian pedals, he plans to remind himself of the old Maclean war cry, "Another for Hector", I'm thinking he should change it to "Another for Duart!"
Are you interested in following Ian's journey on his Ride for Duart? Members of Ian's support team have you covered. No matter where you are in the world, like the Ride for Duart Facebook page and follow along as Karen McLean and George MacLean keep everyone updated as the ride progresses throughout Nova Scotia.
See you in June!