Ride For Duart Castle
A Brief History Of Duart Castle
Close this window/tab to return to the Ride For Duart page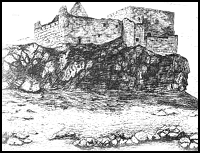 The Keep at Duart was built in 1360 when Lachlan Lubanach, the 5th Chief, married Mary Macdonald, daughter of the Lord of the Isles. She brought Duart as her dowry. Lachlan built the Keep and the NW part. The other two wings were added in the 16th and 17th centuries.
The Maclean family lost the Castle in the late 17th century when the Earl of Argyll took the Castle and the lands to pay off family debts. In 1911 Sir Fitzroy Maclean, the 26th Chief, bought back the Castle and in the period up to WWI, restored it to the building you see today.
Duart remains one of the few original clan seats that has survived as the home of the Chief and his family while also being open to the public.
The Castle requires further repairs to combat the winter gales and rain that continue to cause leaks in some parts of the Castle. While the repairs undertaken to date have been more extensive and costly than initially envisaged, they have been a great success. Now we need to finish the job and protect this significant part of our Clan history for future generations.