Duart Castle Needs Your Help!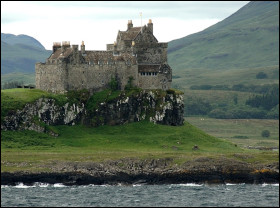 Duart Castle, or Caisteal Dhubhairt in Scottish Gaelic, is the ancestral home of Clan Maclean. It was built in the 13th century and was restored by Sir Fitzroy Maclean, the 26th Chief of the Clan MacLean, in the early 1900s.
Duart Castle is in need of work to preserve it for future genetrations. As the home of Clan Maclean, the importance of Duart Castle cannot be overstated. Although work is underway, Sir Lachlan Maclean, 28th Chief of Clan Maclean, cannot afford the expense of the major repairs the castle still needs.
To help pay for the repairs and restoration work on Duart Castle, a fund has been created to allow Macleans (no matter how they spell their name), and other people interested in preserving this important piece of Scottish history, to contribute to the cost of the work.
You donations, no matter how large or small, will be appreciated. For further information, and to donate, visit the Duart Castle restoration fund appeal page.
This page also has a brief history of the castle, and more information on the work that has been completed, and the work that is still required to ensure its future.