Click any picture for a larger picture in a new window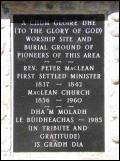 The church was built in 1856 to replace an earlier log one and it burned to the ground in 1960. It was named for the Rev. Peter MacLean who was the first Presbyterian minister in the area.

The cemetery holds many Maclean pioneers as well as many other Highland emmigrants. The Clan Maclean Association participated in the planning and dedication of the memorial that stands in it's place.