MacLean Kilties Book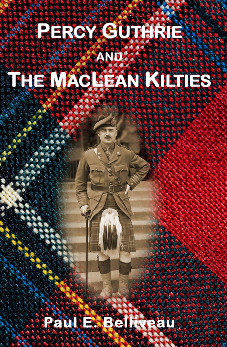 The Official Canadian Launch of Paul Belliveau's book entitled "Percy Guthrie and the MacLean Kilties" was held on September 17, 2016 in Bldg A-4 (Sergeants and Warrant Officers Mess), Camp Gagetown, Oromocto, New Brunswick. Click here for a Google map in a new window.
The event was sponsored by the Clan Maclean Heritage Trust, Clan Maclean Atlantic Canada, and the New Brunswick Scottish Cultural Association.
It featured not only a presentation by the author, and other interested folk, but also a "live" Kiltie, Kiltie memorabilia, a re-enactment of one Percy Guthrie's "sales gimmicks", bagpipes and more.
The Launch was followed by a Guided Tour of the Military History Museum.
The author was pleased to sign copies. For those of you who missed this event, you can order one through the author as either a hard copy book or an epub book at www.lulu.com.