Lord Maclean
27th Chief of Clan Maclean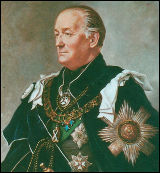 5th May 2016 is the centenary of the birth of Lord Maclean, the 27th Chief, and we invite all members of the Clan Maclean, wherever they may be, to raise a glass to his memory.
Here is the tribute that Sir Fitzroy Maclean, the President of the Clan Maclean Association, wrote when the chief died in February 1990.
Lord Maclean of Duart and Morvern, Bt, KT, GCVO, KBE, PC 27th Chief of Clan Maclean Born 5th May 1916
"Chips" Maclean became Chief of Clan Gillean very early in life. He will, without any doubt, go down to history as one of our great Chiefs. The Gathering that we held at Duart in 1986 was a marvellously happy occasion. It celebrated much more than his fifty years as our Chief. It expressed our love and affection for him and his family and our pride in all that he himself had achieved both in Scotland and beyond. The qualities that made him such a good regimental officer, Chief Scout, Lord High Commissioner and indeed Lord Chamberlain were, I suspect, the same that made him an outstanding Chief. One of the least pompous and most unassuming men I have ever known, he had a kindness, a directness and a natural goodness which went straight to your heart. He was also someone whom it was fun to be with, who liked people and would take endless trouble with them, whoever they were. His sense of humour was unquenchable. His grandfather brought Clan Gillean back to Duart. "Chips" in his turn lent new lustre to our clan's ancient glory.